Welcome to Navigating the Customer Experience Podcast, I'm your host Yanique Grant. I am really excited about starting this Podcast and sharing with you. This podcast will be taking you on a journey with global entrepreneurs and subject matter experts that can help you to navigate your customer experience. We want to show you what customers really want, how businesses can understand the psychology of each customer or business that they engage with. We will be looking at technology, leadership, customer service charters and strategies, training and development, complaint management, service recovery and so much more! We want to make this experience exciting and enlightening for you our listeners.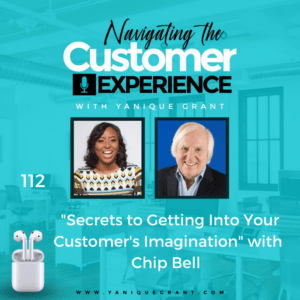 Podcast
Chip Bell is the author of 24 books, Chip's newest book, "Inside Your Customers Imagination: 5 Secrets to Creating Breakthrough Products, Services, and Solutions" is
Read More »
Is This Podcast For You???
Well, if you are a business owner, manager, supervisor or just someone who wants to make money – do you want to understand what your customer experience should be, do want to have a culture where your employees see, feel and live your vision, do you want to increase your bottom line? Do you want to have a business where you have Raving Fans? Well you are in the right place – this Podcast is for you!